Report this content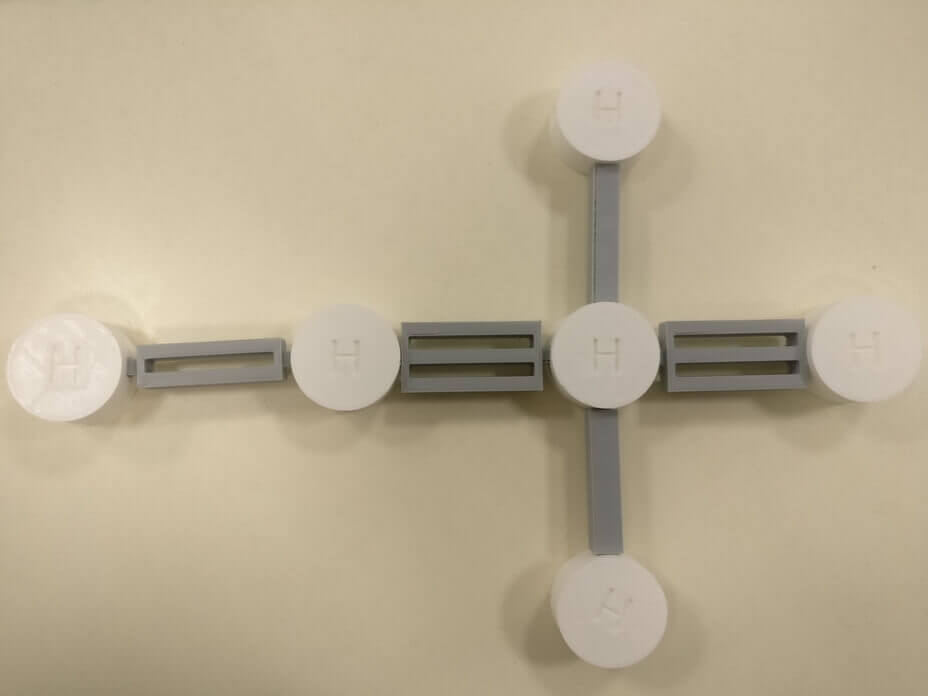 Technichal Specifications
Technology:
FDM
Material:
PLA, ABS
Color:
Molecules: Different colours Connectors: White
Dimmensions:
Molecules: 2-3cm (diameter), 2-3cm (height) - Connectors: 4cm (length), 0.5x0.5cm
Resistance required:
No
When to print:
Before or during class
Can it be painted?:
No
Number of pieces:
15
Need Assembly:
Yes
Quality required:
medium
How to use this exercise?
The students will assemble the different printed models in order to set and create many chemical compounds.
Number of pieces of this exercise
15
General description
There are 2 kinds of models: molecules and connectors.
– Molecules: They are flat cylinders, with the name of the molecule engraved or embossed on them. They also have some holes in order to connect them with other molecules, with the connectors.
– Connectors: They are basically sticks, for connecting the molecules. There can be more than one kind of connector.
Additional Material
Models used:
License Info
Attribution 4.0 International (CC BY 4.0)
https://creativecommons.org/licenses/by/4.0/
You are free to:
Share — copy and redistribute the material in any medium or format
Adapt — remix, transform, and build upon the material
for any purpose, even commercially.
Under the following terms:
Attribution — You must give appropriate credit, provide a link to the license, and indicate if changes were made. You may do so in any reasonable manner, but not in any way that suggests the licensor endorses you or your use.
No additional restrictions — You may not apply legal terms or technological measures that legally restrict others from doing anything the license permits.
Learning Specifications
How can the model be used in class?
The models will be used for a better way of teaching chemical formulation. Students will assemble the molecules and connectors in order to create the compounds the teacher specify.
Also, different colours can be used for the molecules.
What benefits can its use have?
Teachers will be able to transform chemical formulation into a game. It's a good way to learn in an interactive way.
Students would be able how to build/set organic an inorganic compounds such as hydrocarbons, alcohols, organic acids, etc.
Can it be used in other subjects?