Report this content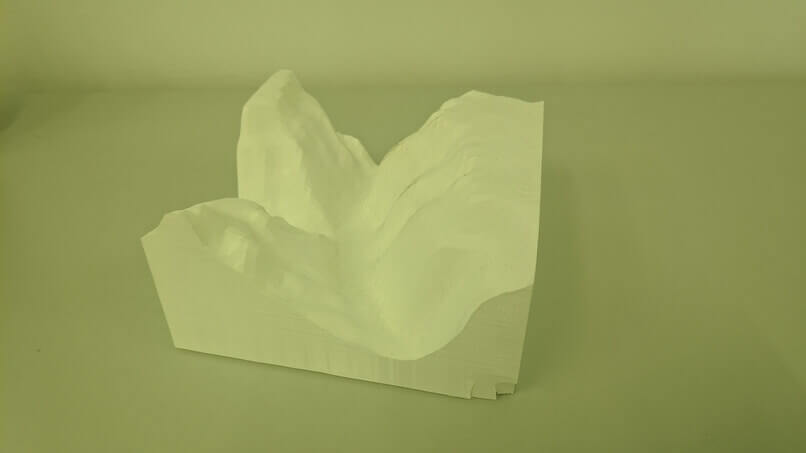 Technichal Specifications
Technology:
FDM
Material:
PLA, ABS
Color:
1 Colour
Dimmensions:
200 x 200 x 200 mm
Resistance required:
No
When to print:
Before or during class
Can it be painted?:
No
Number of pieces:
1
Need Assembly:
No
Quality required:
medium
How to use this exercise?
The model will be used to introduce students to the different kinds of valleys on a geographical level as well as understanding the causes that brought to each valley shape.
Number of pieces of this exercise
1
General description
The model is composed of a cubic 3D print which features 4 different sides:
• First side represents the V Valley;
• Second side represents the U Valley;
• Third side represents the Ravine Valley;
The fourth side is a normal flat wall. All of the valleys are connected through a path. The relative name can be written under each of them, if needed.
Additional Material
Models used:
License Info
Attribution 4.0 International (CC BY 4.0)
https://creativecommons.org/licenses/by/4.0/
You are free to:
Share — copy and redistribute the material in any medium or format
Adapt — remix, transform, and build upon the material
for any purpose, even commercially.
Under the following terms:
Attribution — You must give appropriate credit, provide a link to the license, and indicate if changes were made. You may do so in any reasonable manner, but not in any way that suggests the licensor endorses you or your use.
No additional restrictions — You may not apply legal terms or technological measures that legally restrict others from doing anything the license permits.
Learning Specifications
How can the model be used in class?
The model can be used in class to teach students about the main different types of valleys that can be found across the globe. It features different sides so that students can see directly and more concretely, at the same time they can compare the different kinds of valleys by simply rotating the model.
Teachers can ask the students to provide concrete examples (by doing, for example, an internet research) for each different kind of valley explained in class.
What benefits can its use have?
The use of this model leads to better visualizing of the main kinds of valleys that can be found around the world, and also a deeper understanding of what caused them and their shape to be like that today.
Students can at the same time touch the model, especially those with special needs, so that they better understand the kind of shape.
Can it be used in other subjects?