Report this content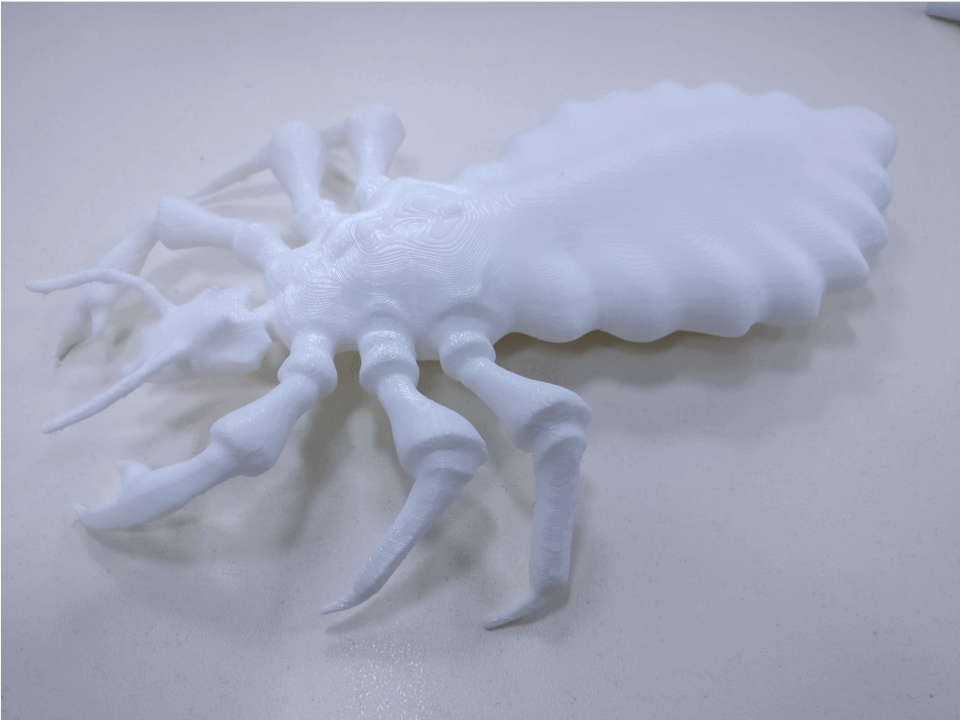 Technichal Specifications
Technology:
FDM
Material:
PLA, ABS
Color:
1 Colour
Dimmensions:
Max 14 cm x 14 cm x 14 cm
Resistance required:
No
When to print:
Before class
Can it be painted?:
No
Number of pieces:
1
Need Assembly:
No
Quality required:
medium
How to use this exercise?
The students get to know different endoparasites and ectoparasites.
Head lice are very common, but many students have never seen head lice themselves. With the enlarged model these parasites are to be illustrated and at the same time the real size is shown.
The model should be printed once for the entire class.
Number of pieces of this exercise
1
General description
The model should show the students what a head louse looks like and how small it is in real life. For that reason, there should be two head lice on one sheet: a head louse in the original size (3.5 mm) and an enlarged one, as accurate and big as possible.
Additional Material
Models used:
License Info
Attribution 4.0 International (CC BY 4.0)
https://creativecommons.org/licenses/by/4.0/
You are free to:
Share — copy and redistribute the material in any medium or format
Adapt — remix, transform, and build upon the material
for any purpose, even commercially.
Under the following terms:
Attribution — You must give appropriate credit, provide a link to the license, and indicate if changes were made. You may do so in any reasonable manner, but not in any way that suggests the licensor endorses you or your use.
No additional restrictions — You may not apply legal terms or technological measures that legally restrict others from doing anything the license permits.
Learning Specifications
How can the model be used in class?
Brainstorming session: The students are asked which parasites they know and which of them occur in our country.
After that the students comment on which parasites they have ever seen themselves and whether they could describe the exact look.
Now it's about the head lice and their size. Students who have already seen head lice should sketch these on the board and indicate the size.
The model is then output so that students can see and touch the head lice in detail and see the real size.
What benefits can its use have?
Head lice are very common and therefore they are a very important subject in school for medical assistants. The lice are very small. A 3D model can help students get an accurate idea of the size relationships.
The enlarged model shows the structure and appearance of a head louse. In 3D, this is much clearer compared to an illustration in a school-book.
With the smaller model in full-scale, the students see the head lice in their original size. This is important, because head lice must be recognized by medical staff.
Can it be used in other subjects?
Medical assistants, medicine, Vet assistants.