Report this content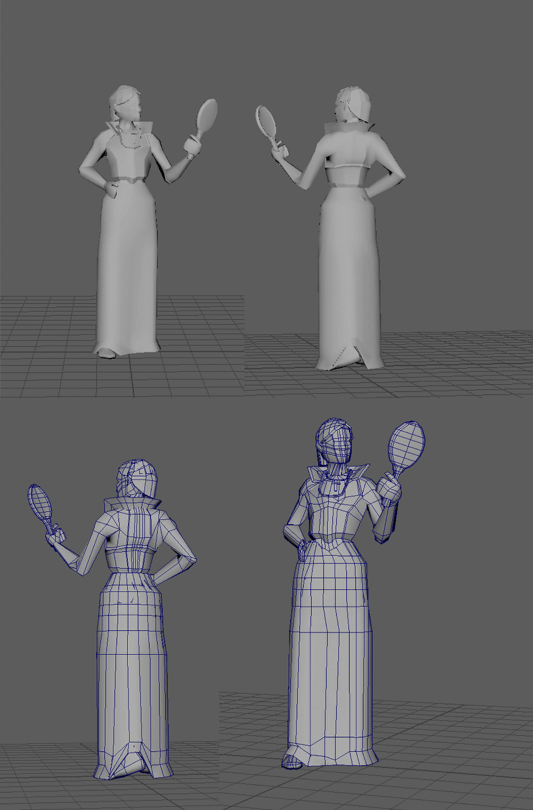 Technichal Specifications
Technology:
FDM
3D Printer model:
uPrint SE Plus
Material:
ABS
Color:
White
Dimmensions:
15 cm
Resistance required:
Yes
When to print:
Before class
Can it be painted?:
Yes
Number of pieces:
1
Need Assembly:
No
Quality required:
medium
How to use this exercise?
How do we imagine pride in a person?
This model serves as an example for a woman who looks proudly and in love with herself in the mirror.
Number of pieces of this exercise
General description
The character "arrogance" is represented by a woman in a very upright posture looking into the mirror. My model is based on the drawing "Superbia" by Jacob Matham.
Additional Material
Models used:
License Info
Attribution 4.0 International (CC BY 4.0)
https://creativecommons.org/licenses/by/4.0/
You are free to:
Share — copy and redistribute the material in any medium or format
Adapt — remix, transform, and build upon the material
for any purpose, even commercially.
Under the following terms:
Attribution — You must give appropriate credit, provide a link to the license, and indicate if changes were made. You may do so in any reasonable manner, but not in any way that suggests the licensor endorses you or your use.
No additional restrictions — You may not apply legal terms or technological measures that legally restrict others from doing anything the license permits.
Learning Specifications
How can the model be used in class?
The seven major sins play a central role in moral life and thus in religious instruction, as do the seven virtues. One could use this model as an introduction and have it analysed why this model stands for arrogance. One can lead to other representations in art. In the further course models for the other mortal sins or virtues can be developed. The models can become part of an exhibition.
What benefits can its use have?
The model, the figure was developed by a student.
The model created with the 3D printer can be painted. With appropriate colour symbolism matching and unsuitable colours can be tested to Superbia. Photos with the model in different environments place the figure and the problems connected with it in the most different contexts of our time.
E.g. cosmetic operations, anorexia, shopping addiction, …
The advantage of this 3D expression should be the inspiration for students to create further representations which can then be transferred into our time. This makes students more aware of the issues they are already familiar with and the topicality of the problems of our time.
Can it be used in other subjects?
Religion
Graphic design: model development
Art: Drawing
Ethics
Professional competence for trainees in the fields of tailoring and hairdressing