Report this content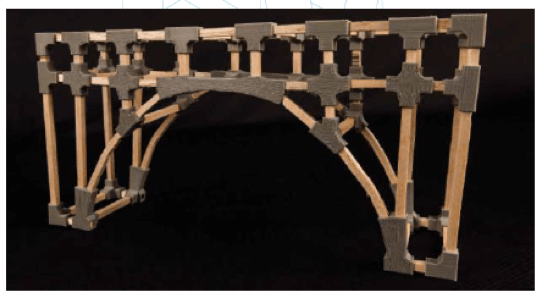 Technichal Specifications
Technology:
FDM
Material:
PLA, ABS
Color:
1 Colour
Dimmensions:
Basic dimensions of each connector are: 20x20x20 mm
Resistance required:
No
When to print:
Before or during class
Number of pieces:
18
Need Assembly:
Yes
Quality required:
medium
How to use this exercise?
Students will print connectors and will try to build the strongest structure for a specific purpose (for example: a bridge). They can use wood sticks plus 3d printed connectors for creating the structures.
Number of pieces of this exercise
18
General description
The idea is to use 3d printers to produce different kinds of connectors, with several types of ways and angles.
Students will use these connectors and also sticks in order to create the structures. Sticks can be made of wood, or the can also be designed and printed by students.
An example of an exercise could be the challenge of creating the strongest bridge with the minimum of sticks and connectors.
Additional Material
Models used:
License Info
Attribuzione 4.0 International (CC BY 4.0)
https://creativecommons.org/licenses/by/4.0/
You are free to:
Share — copy and redistribute the material in any medium or format
Adapt — remix, transform, and build upon the material
for any purpose, even commercially.
Under the following terms:
Attribution — You must give appropriate credit, provide a link to the license, and indicate if changes were made. You may do so in any reasonable manner, but not in any way that suggests the licensor endorses you or your use.
No additional restrictions — You may not apply legal terms or technological measures that legally restrict others from doing anything the license permits.
Learning Specifications
How can the model be used in class?
Students will use 3D printed connectors (they also can design their own ones) in order to create different kinds of structures. A bridge is a good example.
What benefits can its use have?
Students will have to manage to create the strongest structure with the less pieces and components, for example. They will use mechanics knowledge and, of course, they will use their imagination and skills.
Can it be used in other subjects?
Computer design.
Technology.
Engineering.