Report this content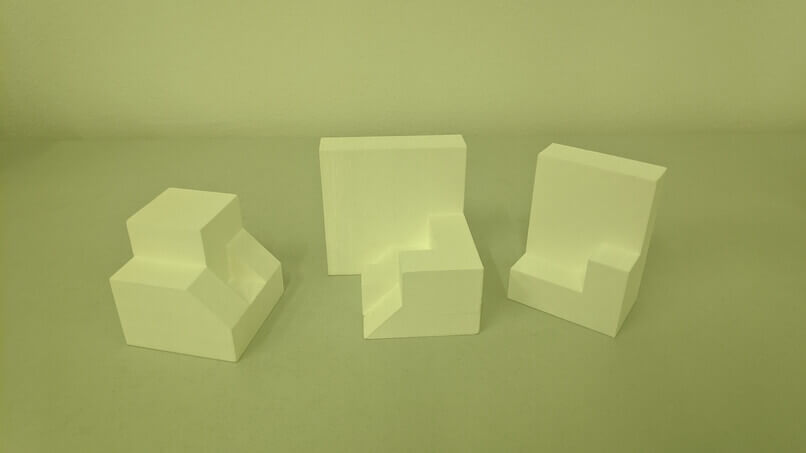 Technichal Specifications
Technology:
FDM
Material:
PLA, ABS
Color:
3 colours
Dimmensions:
Piece 1: 80x60x40 mm, Piece 2: 60x60x60 mm, Piece 3: 80x80x80 mm.
Resistance required:
No
When to print:
Before class
Can it be painted?:
No
Number of pieces:
3
Need Assembly:
No
Quality required:
medium
How to use this exercise?
Learning and practicing how to obtain technical views (top, front and side view) from 3 objects. It can also be used for practicing the dimensioning of views by measuring the pieces.
Number of pieces of this exercise
3
General description
The exercise is composed by 3 geometrical pieces with different shapes and difficulty levels:
• Piece 1, easy level
• Piece 2, medium level
• Piece 3, hard level
These pieces can be stored by putting them together forming a cube.
Additional Material
Models used:
License Info
Attribution 4.0 International (CC BY 4.0)
https://creativecommons.org/licenses/by/4.0/
You are free to:
Share — copy and redistribute the material in any medium or format
Adapt — remix, transform, and build upon the material
for any purpose, even commercially.
Under the following terms:
Attribution — You must give appropriate credit, provide a link to the license, and indicate if changes were made. You may do so in any reasonable manner, but not in any way that suggests the licensor endorses you or your use.
No additional restrictions — You may not apply legal terms or technological measures that legally restrict others from doing anything the license permits.
Learning Specifications
How can the model be used in class?
This model can be adapted for teaching different activities. The main aim is to teach the students how to obtain the technical views (top, front and side) of the 3 objects in the first year of their technology course.
In following courses, as obtaining technical views lessons are repeated, it might be suggested also to learn how to do the dimensioning of those views, with the possibility of measuring the pieces during the lesson.
This pieces can be modified by the teacher in order to adapt the difficulty of the exercises to the group of student (as far as he knows the basics of CAD designing).
Furthermore, it is suggested that higher courses students at engineering or technology subjects (when they learn about CAD programs and 3D designing) design and print their own new pieces for the lower courses students to work with.
What benefits can its use have?
The main benefit of this exercise is that teachers are able to instruct their students in technical views obtaining (which is quite abstract and sometimes a hard topic) by a very practical way.
Having the real solid object in front of the students and them being able to manipulate it conduct the lesson to a better understanding in a more simple and entertaining way.
Can it be used in other subjects?
– Technology
– Engineering
– Design