Report this content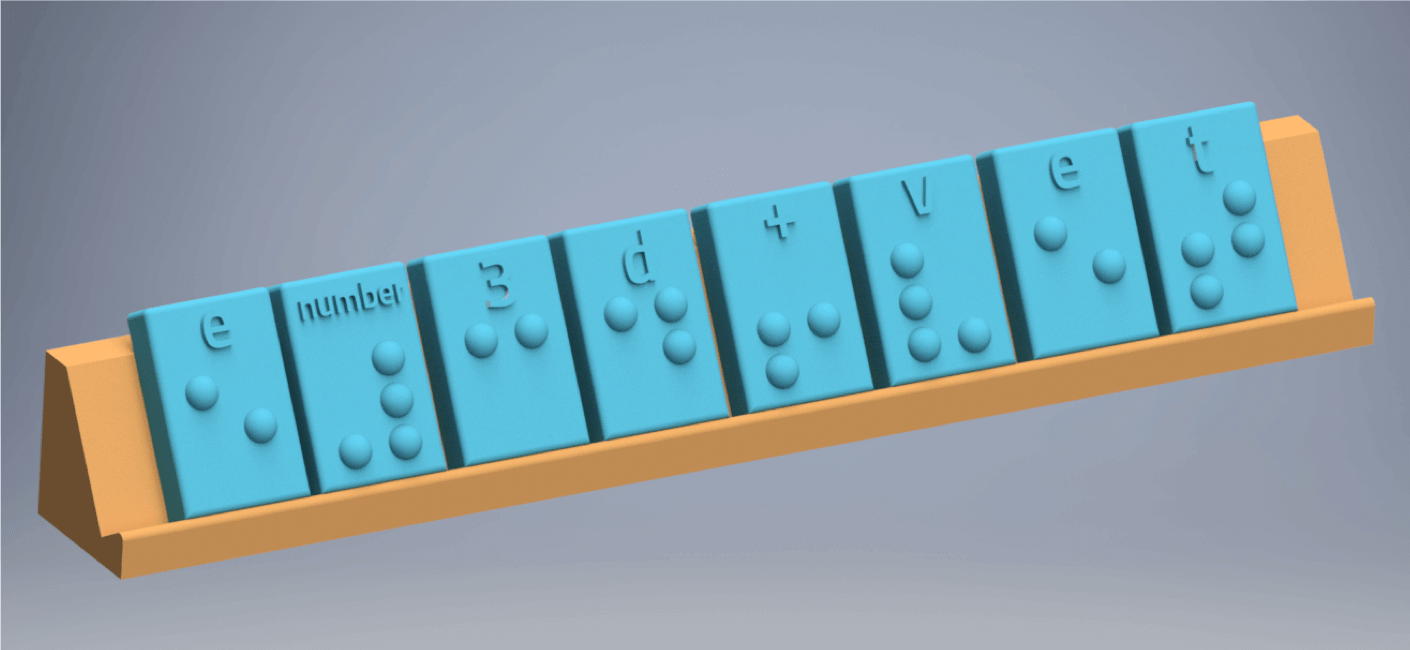 Technichal Specifications
Technology:
FDM
Material:
PLA, ABD
Color:
1 Colour
Dimmensions:
Pieces: 3x2x0.6mm, Base: 200x25x24mm
Resistance required:
No
When to print:
Before class
Can it be painted?:
No
Number of pieces:
60
Need Assembly:
No
Quality required:
medium
How to use this exercise?
With the Braille alphabet printed in 3D, the student will be able to learn the symbols and then read a written document with this typeface.
Number of pieces of this exercise
60
General description
This exercise is composed of several pieces, all the same size.
It is intended to have all the letters and numbers of the Latin alphabet, and if desired, some specific letter of a specific language, such as: ü, ö, ñ …
Minimally, the model will be composed of:
26 corresponding to the letters from "a" to "z" of the Latin alphabet.
23 symbols. The most representative, such as: @ +,. – ( /:; # etc.
The numbers from 0 to 9 (correspond to the first 10 letters of the alphabet)
This alphabet can be used with gamification techniques inside the classroom, for example simulating the Scrabble game. In this case, it would be convenient to print several pieces of the most common letters, and some bases to support the pieces.
Additional Material
Models used:
License Info
Attribution 4.0 International (CC BY 4.0)
https://creativecommons.org/licenses/by/4.0/
You are free to:
Share — copy and redistribute the material in any medium or format
Adapt — remix, transform, and build upon the material
for any purpose, even commercially.
Under the following terms:
Attribution — You must give appropriate credit, provide a link to the license, and indicate if changes were made. You may do so in any reasonable manner, but not in any way that suggests the licensor endorses you or your use.
No additional restrictions — You may not apply legal terms or technological measures that legally restrict others from doing anything the license permits.
Learning Specifications
How can the model be used in class?
Explain the history of the Braille Alphabet, created by Frenchman Louis Braille in 1824.
In classes where you have to delve into this alphabet and type of writing, it will be used as the first contact with the symbols, to facilitate the memorization of these quickly.
It will also serve to explain the difference between how it is read and how it is written.
In writing: It is written from Right to Left
In reading: It reads from Left to Reward.
Braille positive line to write Braille. This is a complementary object to the Braille alphabet. With it you can learn the writing techniques. (From right to left).
As a gamification technique simulating the Scrabble game. Where by groups of two or more, they can interact by looking for the longest possible words with a certain number of pieces. Of course, always blindfolded.
It can also be used in psychology subjects, to better understand people with different abilities.
What benefits can its use have?
First contact with the Braille alphabet. Benefits:
By memorizing the symbols with large pieces, it will be easier to move to the second phase, reading at standard size and writing.
Improvement of concentration and memorization.
Improvement of photographic memory.
Put yourself in the role of another person with different abilities.
Learn to communicate through a different alphabet to the one that is already known.
Learn through gamification techniques.
Know symbols of other languages, such as the "ñ" of Spain, "a-ö-ü-ß" of Germany …
Use of the Braille Alphabet, to memorize words in other languages.
Can it be used in other subjects?