Report this content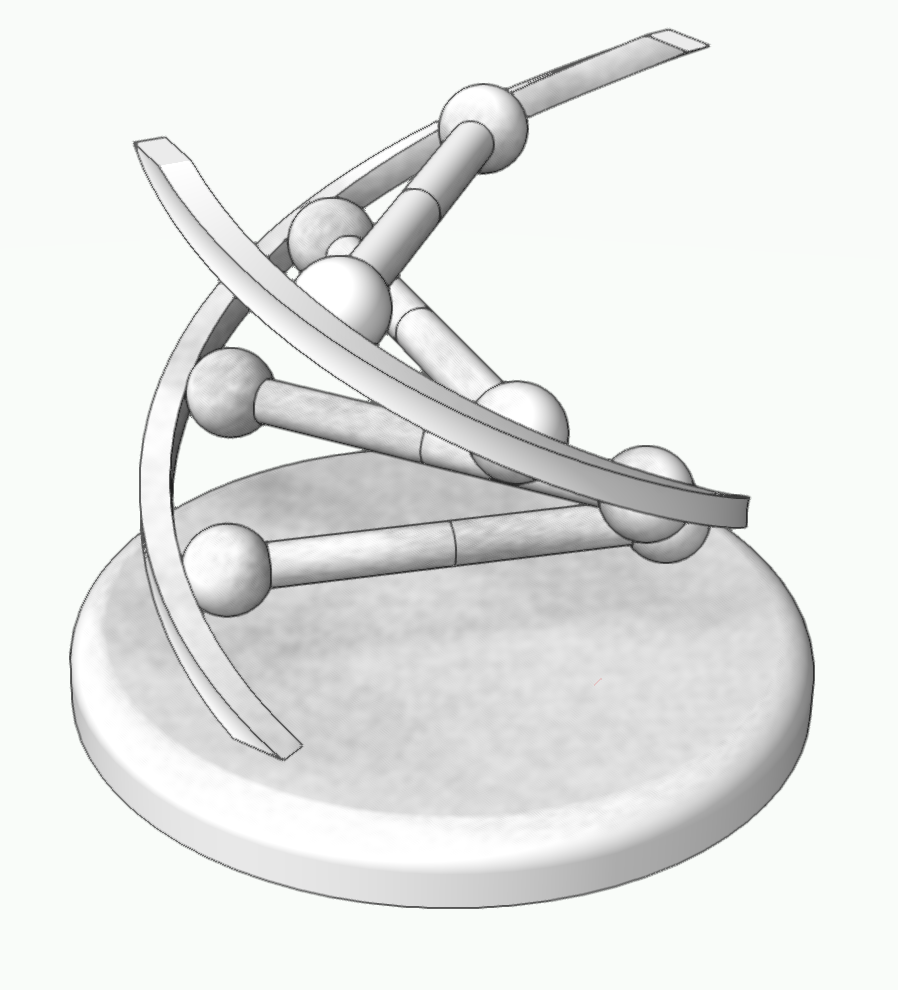 Technichal Specifications
Technology:
FDM
Material:
PLA, ABS
Color:
3 colours
Dimmensions:
20 cm3
Resistance required:
Yes
When to print:
Before class
Can it be painted?:
Yes
Number of pieces:
9
Need Assembly:
Yes
Quality required:
medium
How to use this exercise?
The model can be used to put into practice the students understanding out of what components DNA consists, how DNA works, what the Genetic Code is and learn the sequences of bases that result in an amino acid.
Number of pieces of this exercise
9
General description
This exercise is composed by 24 interchangeable "puzzle" pieces and a base, where one can put the DNA Base puzzle pieces.
• The base ground is a rectangular piece in which 6 puzzle pieces can be allocated;
• Each DNA base piece is suggested to be painted with a different colour for better distinction;
There are 4 bases (Adenine, Cytosine, Guanine, and Thymine). Each base has a matching base (A and T match; C and G match) Each base piece features the letter of its Name (A= Adenin, C= Cytosine, G= Guanine, and T = Thymine)
For a more difficult level the Bases can all have the same end so it will not be so obvious which base matches with which one.
Additional Material
Models used:
License Info
Attribution 4.0 International (CC BY 4.0)
https://creativecommons.org/licenses/by/4.0/
You are free to:
Share — copy and redistribute the material in any medium or format
Adapt — remix, transform, and build upon the material
for any purpose, even commercially.
Under the following terms:
Attribution — You must give appropriate credit, provide a link to the license, and indicate if changes were made. You may do so in any reasonable manner, but not in any way that suggests the licensor endorses you or your use.
No additional restrictions — You may not apply legal terms or technological measures that legally restrict others from doing anything the license permits.
Learning Specifications
How can the model be used in class?
It can be used as a didactic game.
 Game instruction:
A genetic code is needed to play this game.
Two people can play this game. One has the genetic code and can tell the second player which amino acid he would like to see. The second player has the Puzzle pieces which he needs to allocate in the right order. This game requires that the players (Students) already learned the sequences.
The model can be used to teach about DNA and its components by letting the students playfully allocate the bases with its matching bases. This will allow students to have a better understanding of DNA and how it works.
The "genetic code" defines the rules by which the DNA sequence (i.e., the sequence of bases in the DNA) is translated into an amino acid sequence.
A particular sequence of three DNA bases encodes a given amino acid. Amino acids are the building blocks of proteins. With this model students can playfully and also in a very interactive way, learn which acid sequences result out of witch base sequence with the help of the genetic code.
Questions posed could include:
What components does DNA consist of?
Which base matches with which?
Allocate the bases in the order to get the amino acid… (Amino acid example)
What benefits can its use have?
Students can learn the components of DNA and memorize it better and faster;
Having the real solid object in front of the students and them being able to manipulate it conduct the lesson to a better understanding in a more simple and entertaining way.
Students will be able to memorize amino acid and its related sequences easier.
Help for students with attention deficit or memory problems.
Faster recognition of the complementary sequence.
Can it be used in other subjects?